90040 Height Adjustable Portable Basketball System Review
The products by Lifetime are trusted and widely used across the globe which consists of different varieties in Basketball Review hoops, portable tables, chairs and picnic equipment. The products by lifetime are mainly in plastic which gives superior quality along with durability. But in 1986, when they invented new portable basketball hoops, it took Lifetime foundation and firm to great heights. The reason because of that is they were very user friendly and were satisfying the user requirements very easily. For starting your new basketball career the potable system by lifetime is the best pick for you. With an affordable price, the 90040 height adjustable portable basketball system comes with extensive features and benefits for beginners and professional players. The backboard is constructed with UV protected heavy duty polyethylene plastic. Having a size of 44 inchesbackboard you can practice and learn shooting of bank shots and layups. With a telescoping pole and a push able pin you can adjust the height of backboard which is best for your age and skills. With this height adjustability, you can set the rim as low as 7.5 feet which allows young athletes to start working up with their arm strength to go up the rim while taking dunk shots. This hooping system comes with a five year limited warranty from Lifetime for the people living in America and Canada. The backboard consists of graphics that is fade resistant and all the steel components are coated with powder to prevent rust.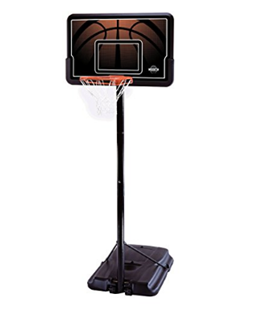 Table of Content:
Product Description
Specification and Features
Pros and Cons
Final Verdict and Review
Product Description
The 90040 height adjustable portable basketball system by lifetime, consist of a 44 inch backboard that is created in such a manner so that it can provide maximum amazement during basket balling. The height adjustable system is also featured in this new version of lifetime, which consist a range of 7.5 to 10 inches, with respect to the height and expertise level of the players. The base of system have 27 gallons of space which can be filled with either water or sand. Hence providing consistency and hardness during play. The rim gives a traditional look which is made of steel and is very durable and powerful.
Having a sturdy construction of heavy duty polyethylene, the rectangle backboard is also protected from strong Ultra Violet rays, hence making it compatible for outdoor use.  The steel pole which are powder coated can survive in different environments such as rain, snow or sunshine without rusting or corrosion. Having wheels on the base makes the system highly portable, without eliminating sand or water from the base. As telescopic process is used, it makes the system convenient and easy to adjust. In comparatively sunny days there is a huge problem of visualization of target, thus in Lifetime's 90040 the target remains visible at any condition because it is protected with longtime fading. Therefore, no installation is required while assembling this basketball hoop.
The original classic rim have a standard size with eighteen inches of diameter in it. The rim is very firm and fitted using static mount with the backboard. The rim comes in orange color which doesn't fades away no matter how dreadful climatic conditions are. The nylon net inserted in the rim also has the ability to withstand wear and tear of high intensity games and disruption in weather. The net is also a standard one with 12 looping net on it which weigh around 50 grams. Welded hooks are used to attach the net with rim which shows a great piece of art without ruining orange color and its design. No plastic is used in all of this process. Basketball Reviews The pole of this system comes in three pieces which are of 2.75 inches each having a round circular shape. The pole is telescopic because it is much easier to adjust desired height with it by just pushing the pin up and down. Same goes for backboard adjustment, which is also done by a pin to move it up or down. The adjustable height of the rim ranges from 7.5 feet to 10 feet, having an increment of six inches each. The rim height and all other components are easily adjustable by anyone. Every 90040 adjustable system is manufactured in America, and comes with a five years warranty against bending and breaking. Warranty against bending won't be claimed, if any bar is defected due to faulty or negligent use, maintenance, alteration, handling or storage by the user.
Specification and Features
The 44″ backboard is impact resistant which is made with heavy duty polyethylene to provide maximum strength and durability.
The Telescoping mechanism sets the height from 7.5 to 10 feet with an increment of six inches each.
The pole comes in three pieces which is round in shape, and is attached to portable 27-Gallon base which can be filled with either sand or water.
The rims are very traditional with nylon net which is suitable for every weather indoor and outdoor use.
Come with an extensive five year limited warranty from bending and breaking.
The height adjustable system is very portable with a 44 inch backboard used.
The construction and parts are UV protected which prevents chipping and cracking in any climatic condition.
The whole system is made in America with eighteen inch black solid rim and 0.5 inches steel braces.
Final Verdict and Review
In my opinion, The Lifetime 90040 basketball hoop is one of the basketball hoop which comes in a very affordable and promises high quality. This was the first starter hoop I purchased through Amazon for my son who is a nerdy basketball lover. By adjusting the height to eight foots he can easily dunk the ball in the net and when I'm playing, I simply push the pin to certain greater height of 10 feet and enjoy playing Basketball Reviews 2018 in my free time along with friends. The height adjustment is very easy and convenient to do, though my son require assistance of his mother as his height is bit shorter. The system is very easy to assemble by just following the instruction and steps written on package manual which I did without requiring any help from second person. The base is very durable which can be filled up with sand or water, it is recommended to fill the base with sand as water may leak or evaporate in future. With portable wheels attached on the base, I can easily move the whole system around wherever I wish to place it. Overall, it's a decent purchase which is recommended for beginners as well as for amateur basketball lovers.
Pros
No massive installation required, the hoop is very convenient.
The system is very affordable.
All the parts, pole, backboard and base are very sturdy and durable.
The backboard which is constructed with polyethylene is very sturdy.
The product is very durable which doesn't gives cracking and bending.
Cons
Water leaks out from the base.
Break-away rim is not inserted which can damage your hand while dunking and layups.
Smaller height people may be requiring some assistance for lowering the hoop.