Jump Slammer Trampoline Basketball Hoop by Trampoline Pro Review
Trampoline brands usually needs maintenance and replacement of their components and accessories which are not serving well and creating difficulties for buyers. For that Trampoline pro, an organization which lays its foundation on replacement of such parts usually do their job. Like, trampoline spring pad or enclosed padded sleeves can be replaced fully by this organization. Or they can even provide you a complete set of trampoline accessories which includes, ladders, shoe organizers and many more. Things like these are available by this organization, all you have to do is to contact them and their team will escort you towards their trampoline expert, thus guiding you the correct part or accessory for your trampoline.
Nowadays, trampoline consist of basketball hoops that are attached on them to provide you and your family an enjoyable experience and fun. Just like Jump Slammer Trampoline Basketball hoop by Trampoline pro, which is very easy to install and offers maximum fun amongst family or friends. This system is adjustable to fit many enclosed pole shape and type in a size of 1.5 inches or lesser.  The ball is made up of foam which offers safety and extravagant fun. The system shows greater longevity and have UV resistant coating on it. The hoop consist of breakaway rims that let you properly dunk your shot without damaging your hand. With the double bracket mount on lower pole provides a balance by keeping your hoop vertical. Very easy to adjust the system with a back to front angle. The steel frame is powder coated to provide durability and lets it withstand on any weather condition. Provides great customer service and free ninety days replacement warranty on parts.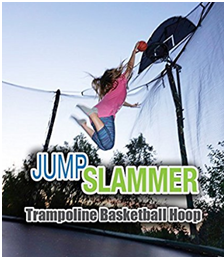 Table of Content:
Product Description
Specification and Features
Pros and Cons
Final Verdict and Review
Product Description
The Jump slammer trampoline basketball hoop provides a greater invention in your trampoline. With the accessibility to experience dunking with extensive height and performing different jump trick shot, this basketball trampoline is designed to provide overwhelming features and benefits. This basketball trampoline hoop is crafted way better than many other similar products available in the market. Actually it gives a pretty international fit, so working out with them is usually done on curved pole, straight pole and arch pole enclosure system. Though, many trampoline basketball hoops are attached with the pole without providing adjustability, so having an enclosure pole with a bend will certainly get your job done. The Jump Slammer trampoline basketball hoop offers fun and excitement of extensive height in a trampoline system. An enclosure pole is required to be purchased separately for mounting, as it is not included with the package. Thus adjustable to fit most of enclosure poles available in the market with a universal fit of 98%.The trampoline is adjusted to fit every ideal enclosures, curved poles, straight poles or Arch type enclosure systems. The mounting option are very versatile towards bended poles. The dual bracket on the lower pole gives a certain balance that makes your hoop vertical and straight.
The depth of trampoline is adjustable to have variance in net mounting placement with an easy front and back angle adjustment. A foam ball is also included that is way safer than regular basket balls. The regular ball might be not suitable to use due to ankle rolling on the trampoline surface. The hoop is constructed with same materials as the trampoline that secures the system from UV rays, thus providing maximum durability. The breakaway rim gives a secure and realistic basketball experience and protects your hand while dunking and layups. The hoop built is very safer and better than many other hoop pivots that maintain the level even if you are expecting that pole doesn't seem to be leveled. Along with powder coated steel frame that provides extensive durability and protects the rim from different climatic conditions. Trampoline pro provides great customer service and lays great foundation on responding user queries, complains and feedbacks. The company provides ninety days manufacture warranty in which the replacement of whole part would be done without any extra charge.
Specification and Features
Many enclosure poles can fit and adjusted within very easily.
Accessible and adjustable towards all ideal enclosures, curved pole, arch type enclosure pole or straight pole.
Depth can be adjusted to mount on different locations.
Front to back angle adjustment is very easy to do.
The dual bracket placed on the lower pole gives a balance to keep the hoop vertical and straight.
Constructed with same UV protected materials as of trampoline, that shows durability and longevity.
Break away rim gives a realistic experience, while making you accessible to do dunking without damaging your hands.
Foam ball is included with the packages to make your basketball experience safer.
Comes with ninety days manufacture warranty in which replacement of every defected part is done.
Final Verdict and Review
In my opinion, the Jump Slammer Trampoline Basketball Hoop by Trampoline Pro, is a very enjoyable invention that let you to spend quality time with your friends and family. With a hoop system on a trampoline doubles your excitement of this beautiful game. I purchased this equipment for my son who usually bring his friends on our home. This product was very affordable and was shipped within two days on my doorstep. I assembled this product by carefully reading the steps and instructions written on the package manual. Our trampoline was placed on back of our yard and within two hours I was able to enjoy basketball with my son. The breakaway rim looked very durable and with the coating against UV rays, it was showing some greater durability in sunny weather. My son and I performed couple of dunk shots and layups, thus breakaway rim was working very precisely and wasn't damaging our hand.The  only issue I faced while assembling was the addition of some parts and components that had a bit of rust in it. Hence this is a very minor issue and can be expected with an affordable piece of equipment. Overall it is a great product and fully recommended for ones who have bunch of kids and extensive space on their house to set this thing up.
Pros
The package is very affordable that offers maximum enjoyment and fun.
The breakaway rim provides realistic experience while dunking and protects your hand while doing layups.
Dual bracket on lower pole balances the hoop and keep it straight.
The frame of the hoop is powder coated to make him long lasting in different climatic conditions.
Front to back angle adjustment of hoop is very easy.
Cons
Enclosure pole not included with the package, which is one of essential material to set up this system.
The rim that comes with a system is not of high quality.
The net comes within the package is very bulky.
The basket of the hoop is too small.
Some of the parts came out defective.