Lifetime 48 Inch Portable Basketball Hoop Review
Lifetime is one of the famous manufacturing companies in the world that makes products which consist of innovative and creative ideas. The products are mostly made of plastic and metal and are moderately priced, hence making your family have affordable products of superior quality. This company was mostly known for making high quality tables and chairs, yet in 1986 it further enhanced its creation and started producing portable Basketball Review hoops which further increased it sreputation. The thing that really made people to purchase Lifetime's products was its user-friendly manufacturing. Increase your skills and jump shots on your very own backyard with your friends or family by Lifetime 51550 Courtside 48-in chPortable Basketball Hoop. Most of the in-ground hoops are fitted on the ground with concrete, while the Lifetime 51550 consists of a portable base which consists of wheels, that you can roll and set wherever you want to. All you have to do is just fill the base with either water or sand to make the base stable during the game play.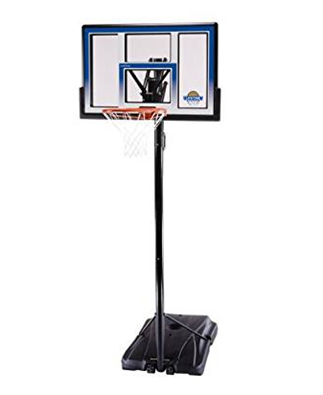 Table of Content:
Product Description
Specification and Features
Pros and Cons
Final Verdict and Review
Product Description
The Lifetime 51550 48 inch Portable Basketball Hoop is constructed having two great features of height adjustability and spring compression rim system. The pole of the system is round in shape which comes in three pieces, which makes the adjustment height of the system very easy and convenient for anyone. This factor plays a huge role because anyone amongyour family and friends can easily set the height according to his/herskills, and then enjoy the game. Therefore, the height can be incremented to six inches at a time vertically, if you are going for a dunk shot. However, the slam-it rim protects the hoop if you are a professional athlete and have a dunking delirium. The solid-steel rim consists of dual compression springs that provide a certain way while dunking and hence protect the player from injuries. The regulation rim consists of 0.5 inch braces having welded steel net hooks on which a nylon net is attached which can withstand any climatic condition. There are also some other features that make this system very much impressive and those are the fade-resistant graphics which consists of a printing on the backboard by an Ultra-Violet resistant ink. Around the backboard, there is a frame of high impact resistant polyethylene with powder coating to prevent the system from getting rusted and corroded.
Having factors of durability and affordability at greater instinct, the new 48 inch portable basketball hoop is best for beginners and amateurs. Coming with quick shift speed system of the steel pole, it is rated as one of the best basketball hoop sat Amazon. This system is highly portable with extensive features such as involvement of polyethylene backboard which is very sturdy and unbreakable. The system is protected from strong UV rays and rain which makes it compatible for outdoor use. The base consists of 31-gallon space, which can be filled with either sand or water, thus making that plastic base stronger enough to withstand aggressive dunks without leakage and wobble during higher wind.  The hoop is manufactured with powder-coated steel to make it withstand the rust and corrosion. The solid steel rims are very strong and long lasting consisting of two layered compression springs, thus making their working boost up.
The durability is the first thing that clicks on any person's mind when you are talking about portability of the base. Severe climatic conditions like having a temperature below freezing point or having a hot sunny atmosphere affects the base. Basketball Reviews Due to these reasons, some cheap low quality bases start to leak and thus having no protection, the design of the base starts changing due to excessive sunlight. The Lifetime 51550 consists of a 31-gallon base which needs to be filled with either water or sand to make it stable enough so that it hasa powerful structure. The base is constructed with heavy beefy plastic which hasthe ability to withstand any weather and environment. Therefore, just for user satisfaction, Lifetime provides a five year warranty that covers all such parts on which the buyer may have reliability issue. The system also consists of rollers that are attached on the bottom of the base, by just tilting the hoop forward you can make the system move onto its desired location. But it is necessary to empty the base fillings before movement. Thus making the system easy to set up and play the game.
Specification and Features
Consists of a 48-inch shatterproof backboard that gives a strong foundation of an unbreakable surface.
The system is suitable to be used in every weather and can withstand severe conditions.
The speed shift height adjustment procedure makes the process very easy and quick, with a range from eight to ten feet having a six-inch increment.
The rim is made of solid steel that consists of dual compression springs and welded nylon net hooks.
The base has the capacity of 31-gallon that can be filled with either sand or water.
The system comes with a five year warranty for all components.
Final Verdict and Review
In my opinion, the Lifetime 51500 48-inch Portable Basketball Hoop is one of the best yet affordable Basketball Reviews 2017 hoops I ever came across. The system comes in great quality with good packaging and on time within a week shipment except one issue of assembling which takes a lot of work and time. The instructions that are written on the package manual are easy to read and follow, but this work can't be done by a single person. I asked my father to help me while attaching the backboard to the pole and holding the hoop rightly while fulfilment of the base with sand. I used sand to fill the base because it will provide afirm structured surface. After spending and working on for 4-5 hours, I was able to put the hoop together by myself. Once it got assembled the looks and feel of the hoop was really impressive and the system looked very eye warming having high quality componentsIt is recommended to purchase a wrench and a socket kit to make your assembly process much easier and faster.
Pros
The height of the adjustable pole is very user friendly that can be adjusted with a range of 8 to 10 feet withsix inches increment each.
Easy to transport from one place to another because wheels are provided on the base.
Comes with a five year warranty.
The price of the system is very affordable.
The three piece pole is very stable on the base and powder coated to protect from rust.
Cons
The system is somehow annoying to assemble due to lack of instruction in the manual.
The range of the adjustable rim should be increased.
Mild vibrations from the whole system while taking shots from a certain range.
Not recommended for professional athletes because of polycarbonate backboard.
The pole and wheels are not attached and can pop out while moving the base with sand or water.